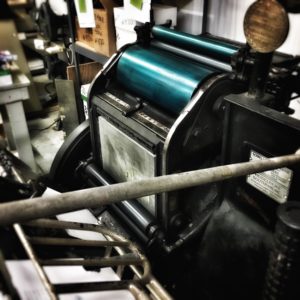 The right tools are a must for producing quality stationery. We do much more than take orders or sell pre-stocked stationery. From beginning to end we have a hands-on approach to every project. With our in-house team of dedicated stationers, graphic artists and an experienced pressman, your stationery is designed, printed, and assembled right here in our studio. We offer clients personal attention and superior quality, be assured that your image is in the right hands at Hobart Print Studio.
Letterpress | Heidelberg Windmill Platen Press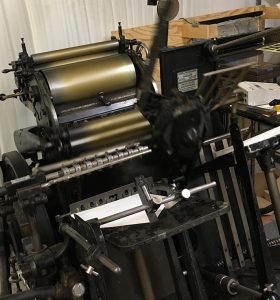 From elegant letterhead and die-cut presentation covers to retail tags and reception napkins, this press guarantees the highest quality printing. A key feature of the design is the rotating gripper attached to the moving platen, which grips and releases the paper stock. It's this gripper which has stimulated American owners to dub it "the windmill". Full adjustability is a key feature of the Heidelberg platens – impression weight is simply changed by rotating the impression control, whereas pushing and pulling it changes the platen travel so that impression is switched "off" and "on". Tweaks and adjustments are provided for every aspect of the printing operation, from ink flow through platen leveling, and roller height to delivery "blow" airflow. This article by Fred Williams (reprinted from Type & Press / Courtesy of APA) provides a little history about the press: Windmill Heidelberg – Prince of Presses
Letterpress | Chandler & Price 12×18 Platen Press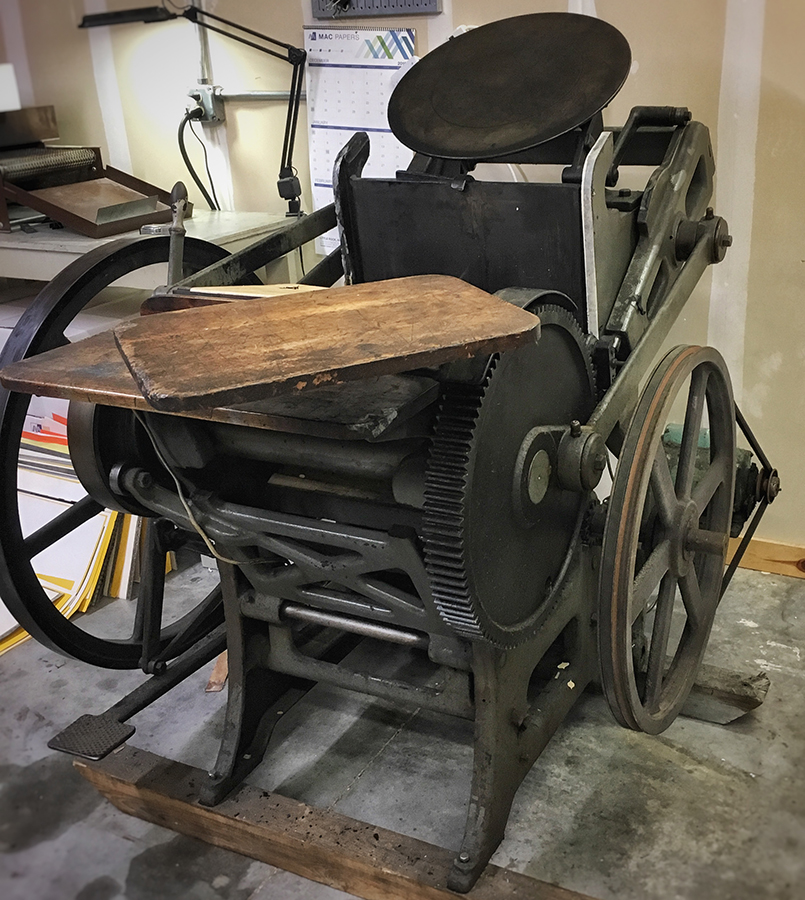 Engineered to last, this C&P New Series Platen Press is over a century old and has outlasted rivals based on pure build quality. Chandler & Price hand-fed, flywheel-driven platen presses were made in Cleveland Ohio from 1887-1965. These C&P floor-model platen presses are distinguished by the large fly-wheel on the side and are able to produce excellent impression as well as accommodate long print runs. As best we can tell by the serial number, this press was manufactured between 1913 & 1914. Due to its ability to run almost any job, it has been referred to as a favorite among pressman. "If a favorite press poll was ever conducted among pressmen and printshop proprietors, there is no doubt that the C&P would win all the honors, grippers down!" – C & P—Pressman's Favorite by Fred Williams, reprinted from Type & Press, Courtesy of APA.
Offs
et Presses | ABDick 9810 & ABDick 360

Offset is an older printing technique that uses a lithographic process in which the inked image is transferred (or "offset") from a plate to a rubber blanket, then to the printing surface. Each press has cylinders and numerous rollers, one with water and the others with ink.

The artwork image is embedded onto a printing plate. That printing plate is attached to a cylinder. From there, the image on the plate rolls over the water roller then the ink rollers. This transfers the image onto a rubber blanket cylinder. Then under a great deal of pressure the image is actually "smashed" into the paper. consistent high image quality. Offset printing produces sharp and clean images and type because the rubber blanket conforms to the texture of the printing surface
Digital Presses | Xanté Impressia & Xanté Illumina

The Xante digital presses provide vivid colors & imagery in addition to printing beautifully on extra heavy card stocks. The Impressia Digital Multi-Media Print System is a high quality color printer solution and allows print on a wider variety of media and sheet sizes. The system is driven by the iQueue Prepress Workflow that make it perfect for handling complex digital files, make critical color adjustments, apply screening, imposition and more. The Impressia system prints on a variety of stocks including: Uncoated, coated, NCR multi-part forms, card stocks, textured stocks, label stock

s and envelopes (Bar-4, Monarch, standard #10, window and large color envelope printer solution). It offers multiple feed options including the new, patented Enterprise High Speed Feeder, two standard feed trays and an optional large capacity feed tray. The Xanté Ilumina Color Digital Press is designed for short-run color printing on heavy papers with weights up to 427 g/m2. It is capable of running all types of jobs from premium 4-color business cards, postcards, direct mail pieces, brochures, to in-store signage. Every job prints in spectacular color and the straight paper path ensures the heavy sheets are flat and easily finished.

Thermographic "Raised" Printing

Thermography, known as "raised printing", is a technique in which a resinous powder is added to the still wet ink printed on the paper. The printed piece is heated and the powder and ink mixture fuses to form a raised effect on the paper. This process produces raised impression similar in appearance to engraving. Our thermography is applied by hand individually to each piece ensuring higher quality appearance with a thicker, more consistent raised type.